Edging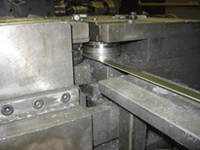 Clingan Steel has the most edging capacity in the industry - 10 lines!
Clingan's edging equipment can produce numbers 1 & 4 round, 1, 5 & 6 square, deburred & custom edges.
This process also, removes camber, twist and coil set. End product can be cuts to length or recoils in either ribbon or oscillated wound coils.
Many customers take advantage of Clingan's edging abilities. Here are just a few reasons:
Extremely tight width tolerances.
Special flatness requirements.
Uniform surface finish for stamping and plating.
End products that requires a safe round edge for handling.
Together with our customers we frequently find new edging solutions to complex engineering challenges. Contact Us today, we welcome new challenges.
| | |
| --- | --- |
| Gauges: | .030" - .312" |
| Strip Widths: | As low as .250" - Upto 8" |